The Impact on Medicare & Medicaid
The repeal and replace legislation concerning the Affordable Care Act (ACA), or Obamacare, seems complicated for many consumers. Though it will likely see changes as it is debated in the Senate, the American Healthcare Act (AHCA) currently contains important changes to Medicare and Medicaid. If you are currently using either of these programs, here is how the AHCA could affect you:
Medicare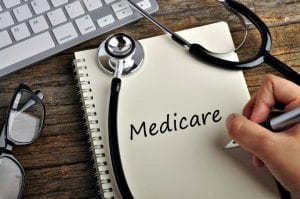 Under Obamacare, funding for Medicare is protected until 2029, ensuring coverage for those who are eligible for the foreseeable future. Medicare is not part of the online marketplaces, so this coverage is protected more than other plans. Part A of Medicare covers hospital bills, skilled nursing care (excluding custodial care), hospice and home services. The coverage varies based on state and Federal laws, congressional decisions concerning coverage, and local coverage decisions by the companies that process claims. Part A does not require any additional premium. Part B requires a monthly premium and covers medical services such as lab tests or wheelchairs. Part D varies more and covers prescription medications.
Currently, Part A is funded through payroll taxes (2.9% for employers and employees or 1.45% for each). Higher income earners see an additional .9% added. It is Part A that will primarily be affected. The AHCA proposes to eliminate these taxes for higher income earners, reducing the amount of financing available for Part A. The reduced funding will leaver fewer American uninsured, forcing hospitals to provide uncompensated care. The solvency, or ability to pay all what is promised, of Medicare will become greatly reduced, and Medicare will not be able to pay all benefits promised in Part A. Medicare will only remain viable for another eight years. This means that over the next few years, Medicare will be unable to support an increasing elderly population, and many seniors will be required to find insurance in the open market.
Since Medicare covers people over 65, the AHCA will affect those who lose coverage in another way. Under Obamacare, elderly consumers could not be charged more than three times the premiums of younger consumers. The AHCA will allow this factor to be increased to five time the rates of the younger population in states that are awarded waivers to opt out of consumer protections. Under these waivers, pre-existing conditions could cause rates to rise or coverage denied. Since many elderly Americans suffer from pre-existing conditions, these waivers could cause many to lose coverage.
Medicaid
Obamacare permitted the expansion of Medicaid so that states may allow for coverage of single, nondisabled adults slightly above the poverty line. The Federal government pays most of the cost in the expansion. This allowed 10 million additional people to enroll under the new requirements. Single adults with an income below $15,800 are currently eligible for Medicaid benefits. Many people join or leave the program as their income fluctuates.
The AHCA proposes cuts to the program that will equal up to $880 million dollars for the Federal government. States will not receive reimbursement for individuals leaving the program, so as people fluctuate out due to income, the allotted resources will dwindle and less people will be eligible.
Medicaid will change from an entitlement program to a grant program, meaning states will have the option of providing a set amount of money to the individual or receiving a set amount of money for all recipients in the state. As federal reimbursements to the states fade, the available resources for Medicaid will decrease. Fewer people will be eligible and fewer health concerns will be covered. Many who are currently eligible for Medicaid will have to find coverage in the open market.
Millions of Americans rely on Medicare and Medicaid for medical coverage. The AHCA, as it currently stands, will affect many of these people in the coming years. The bill will likely change, hopefully ensuring sustained coverage for Americans on Medicare and Medicaid, but it is still important to understand how the bill could affect your coverage.