Best Credit Cards for Questionable Credit
Life does not always work out as planned. Sometimes, a gap in employment leads to a few missed payments, and eviction, or a repossessed vehicle. These things happen to most people. In order build credit back up, a credit card may help. Making regular payments can help to raise that
credit score
. A poor credit history can make it difficult to
build up credit with a card
, but you do have options. As long as your credit is only damaged and not destroyed, then you may qualify for the best credit cards on this list. Here are some of the best credit cards for individuals with a poor credit history.
Compare Credit Cards for Free!
Capital One Secured Mastercard | Best Credit Cards
The best secured credit cards tend to require deposits equal to the credit line, but this card allows you to make a deposit of $49, $99, or $200 for a credit line of $200, depending on your credit. This card presents itself as a great option for those not willing to put down a large deposit. If you make the first five payments on time, then you will be able to increase your line of credit. This card requires no annual fee, and Capital One is accepted nearly anywhere in the world. You will have online access in order to make payments and see your balance. As with most of the cards on this list, you will qualify as long as your credit is not completely destroyed.
OpenSky Secured Visa | Best Credit Cards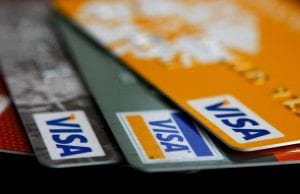 Unlike other cards, the OpenSky Secured Visa does not require a credit check, only a minimum monthly income. While it does have a $35 annual fee, it does not require you to have a bank account. You may pay your bill by debit card, wire transfer, check, or money order. Your credit limit is determined by the amount of your deposit. You will likely pay a deposit equal to the initial credit line, but this card is a great option for those without access to traditional banking services or who have terrible credit, but gainful employment.
Compare Credit Cards for Free!
Discover it Secured Card | Best Credit Cards
The Discover it Secured Card may be one the best credit cards for people with bad credit. A security deposit of $200 or more will establish a credit line decided by the company. After eight months, the company will conduct monthly reviews to see if you qualify for a credit line without a security deposit. There is no annual fee, and you may earn up to 2% cash back on spending up to $1000 at restaurants and gas stations and 1% cash back on all other spending. The card also gives you one free opportunity a month to check your FICO credit score. While this serves as the best credit card for those with bad credit due to its benefits and lack of an annual fee, it does require a bank account in order to make the deposit. If you have a bank account, this card would be worth looking into.
Click here for some free help repairing your credit!
Digital Federal Credit Union Visa Platinum Secured Credit Card
This card has an APR of roughly half most other cards at 12.50%. This card requires a security deposit equal to its limit, but the interest rate is worth it. This card does not place a limit on how high the credit line may be provided it equals the deposit. You should always try to pay your bill in full each month to avoid pitfalls in rebuilding your credit, but this card is the way to go if you should have a balance. The only issue in obtaining the card is that you must be a member of Digital Federal Credit Union to qualify. Most people have no issue in setting up an account with the credit union, so it may be worth looking into to avoid high interest rates.
Building credit with one of these best credit cards may be a great option for you, but you must be careful. You should always ensure that you have the means to pay off the card in order to avoid further credit issues. The card should not serve as a means for paying bills or other expenses, but only as a credit-building opportunity. Never spend more on the card than what you can pay off. If you are in need of credit repair and have the discipline and means to build it with a card, then these cards may be right for you.
Compare Credit Cards for Free!