Increasing Literacy in Children
Literacy is important. This is a fact that cannot be stressed enough. Often, arts and literature are tossed to the side to make way for additional funding in other areas, but learning to read lays the foundation for further education and social contribution. Two-thirds of children who cannot read proficiently by the fourth grade will end up in jail or on welfare. Considering that one quarter of American children grow up without learning to read proficiently, this sets a dangerous precedence. Nearly 85% of juveniles facing the court system and 60% of all inmates in the US are illiterate. This number continues to increase. The United States is the only country in the developed world where one generation is growing up less educated than the previous one.
Click Here for Help with Child Literacy.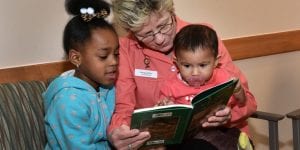 Fortunately, there is a way to fix this. The government changes funding to educational programs every year, cutting funding in some and increasing it in others. Recent budget crunches mean that less money will flow to literacy and educational programs. In 2014, all federal funding was eliminated from the Reading is Fundamental program, and current budget proposals seek to eliminate Federal funding for educational programming such as PBS and the Corporation for Public Broadcasting. So, the fix must begin at home.
Successful parenting results in children becoming adults who contribute to society. This occurs through many methods and styles, but the one unifying feature is literacy. Children who are read to have higher cognitive skills and literacy than kids whose parents do not read to them. They can count to twenty at an earlier age, write their own names earlier, and read earlier. Children who read are able to develop greater skills in other areas, including mathematics, much earlier as well. Here are a few tips to help develop literacy in children.
Read to Your Children
Many parents begin this process while their children are in the womb. Expectant mothers play books on tape through headphones placed on their bellies. While the effects are debatable, this helps foster parental behaviors. Children who are read to at least fifteen minutes a day are more likely to read for fun as they grow older. They see reading as important, so they tend to develop stronger reading habits, leading to increased cognitive abilities and intellectual growth later in life.
Increase the Availability of Reading Sources in the Home
Studies show that children who have at least four types of reading materials in the home (i.e. books, magazines, newspapers, encyclopedias, etc.) develop a greater appreciation of reading. When reading is more accessible it becomes less daunting.
Set Aside Time Each Day
Once children develop basic reading skills, they can improve them through further practice. Setting aside fifteen or twenty minutes a day for the child to read introduces theme to about one million new words a year. Taking a step back for a relaxing activity also removes the stressors of family life. It forces a moment of mediation that reduces stress. Setting time aside increases vocabulary and encourages healthy reading habits.
Readership Programs
There are a ton of literacy programs out there. Some encourage reading during the summer break from school, during which time many children lose a month of what they have learned. Scholastic, Barnes & Noble, Sylvan Learning, and others offer free books and prizes for completing a certain amount of reading. Also, programs such as Dolly Parton's Imagination Library and Reading Is Fundamental's Books For Ownership program, give away free books to children. These programs increase accessibility to books and turn reading into a game that children might accept more readily.
Set the Example
Children draw behavioral influences from their parents. This includes gestures, temperaments, and habits. Improving literacy in children means turning reading into a habit. If the child sees a parent reading regularly, then they are more likely to read themselves. In addition, the parent may improve their own literacy. Increased exposure to literature may translate to benefits for the entire family.
Literacy development in children relies on parents exposing their children to reading. The more that reading becomes a lifestyle, the greater chances are that a child will develop better skills in other areas as well. They will be more likely to finish school and become productive members of society. They will contribute to any field in which they find employment and will likely avoid jail or imprisonment. Reading really is fundamental to childhood development.