Controlling Credit Card Debt
Imagine living with no unsecured debt, all cards paid in full. Millions of Americans pay off their cards in full every month, and you can do the same. You'll need explore solutions and take on what could be the greatest challenge of your life, but you can conquer your credit card debt.
Try Looking for the Best Credit Cards Help Consolidate Your Credit Card Debt.
Need A Loan for Credit Card Debt? 98% Approval Rate! Click Here Now!
Counseling for Credit Card Debt
If you've missed a few payments, if you've lost sleep, if you're making your payments but see yourself on a scary decline, consider getting credit counseling now. If your debt has become serious enough that you need credit services, you can expect that any reputable program will require counseling.
Many non-profits offer counseling, usually in the form of a free workshop for the community or paid online or face-to-face private sessions. A few hours of counseling combined with the discipline to take the advice can be life changing for you and your family. Experts have developed some best practices that can work to reduce what you owe and eventually return your balance to a comfortable level.
Self-help for Credit Card Debt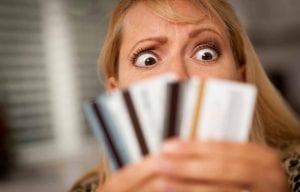 Access your situation – Take a serious look at all your credit card debt, your expenses, and your income. Honestly, face your situation and determine if you can regain control.
Increase income – After assessing your situation, it may be clear that your income is not sufficient to pay your monthly expenses and to pay off what you owe. Taking on additional part-time work may be necessary to have enough income to achieve your goal.
Trim discretionary spending – A reasonable strategy for nearly every American consumer is to trim discretionary spending. It sounds easy, but passing up that shopping trip or trading lunch out with colleagues for a bag lunch in the company cafeteria can take daily commitment.
Pay more than the minimum – Paying only the minimum each month can have you paying for over 20 years. You need to get cards paid off. Two popular strategies for paying off multiple credit card debt are snowball and avalanche. Financial guru Dave Ramsey promotes the snowball plan. With this strategy, you choose the smallest amount, pay it off, and keep the ball rolling and gathering energy until you've paid your credit card debt off completely. Under the avalanche strategy, you pay off the most expensive card first and work your way down to the smallest.
Establish good relationships with creditors – Establishing a good relationship means making at least the minimum payment on time each month. If you anticipate you could fall behind, give them a call before the due date. Communicate. Be open to their solutions and willing to sacrifice.
Negotiate a settlement – If you are a skilled negotiator, you may be able to work a settlement directly with your creditor rather than using a program with fees to negotiate for you. That will depend on the nature of your debt and your commitment to resolving it.
Borrow from / suspend contributions to 401(k) – Tapping into retirement funds is a controversial strategy. You do not want to use retirement funds to self-expand your line of credit. If there's any possibility that at the end of two years, you will have blown through the money and still be in trouble, do not touch these funds. If the funds will help you fix the problem once and for all and then you can repay yourself, borrowing from yourself is arguably the cheapest strategy. If you borrow and don't repay, you will face a penalty.
Have You Tried Renting to Own? New Programs Make It Easy!
Credit Card Debt Management Plan
A debt management plan is a program for credit card users who are in trouble but have money to pay most of their monthly bills. Some borrowers get in trouble because they often forget bills and get hit with interest and late fees. Under this plan, you send a single payment to your DMP. The DMP then disperses the money to creditors. Counseling is an integral part of the plan. A DMP is often able to negotiate for reduced interest rates. As with all third party plans, there are fees and risks. Look for a reputable organization.
Consolidate Credit Card Debt
Consolidation is a strategy in which a borrower takes out a lower interest loan to pay off high-interest cards or consolidate to one credit card. A second mortgage on a home or a loan against a car is common sources of equity. Again, since you are working through a third party, do your research and read the fine print. Make sure you have a fair plan with a reputable company.
Looking to consolidate debt and don't quite have the credit? 98% approved! Good or Bad Credit!
Settlement
A settlement is seldom a good solution. It is risky and even dangerous. Ideally, a settlement company sets up a plan in which you pay a monthly lump sum to them. These companies take your money and allow it to collect in an escrow-type account. In the beginning, they do not use your money to make even minimum payments. They suggest that you stop paying your creditors to have money to send to them. When the escrow amount has sufficient funds, they begin contacting creditors, often those who are owed the least. Few borrowers can follow through on a settlement plan successfully. If you miss a payment, you may break the agreement, leading to the cancellation of agreements and an accumulation of high interest and fees. Settlements typically hurt credit ratings.
Bankruptcy
Two bankruptcy plans exist Chapter 13 and Chapter 7. Chapter 13 is for borrowers with a steady income. Under this plan, you can make arrangements to keep your mortgaged home and car. You follow a repayment plan. Under Chapter 7 all assets are liquidated. Bankruptcy stays on a credit report for ten years.
There is no quick fix. There is no plan or program that will deliver you from an accumulation of credit card debt. You will need an unwavering commitment to an excellent plan to get your finances under your control and to set your future free. The payoff is worth it, though: freedom from debt is a life goal that is well worth the time and effort it takes to achieve it.