The Federal Housing Administration (FHA) insures mortgages on loans provided through FHA-approved lenders. Since its creation in 1934, the FHA has insured tens of millions of homes for families in the United States. These mortgage insurances protect lenders from losses that occur as a result of defaults on home loans. Here is how the FHA might be able to help you.
What the FHA does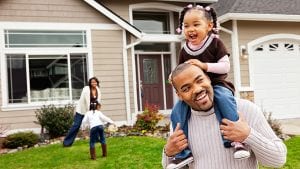 The FHA does not directly issue loans, but rather it insures mortgages, types of loans that are secured and tied to the property. The FHA reduces the risk for lenders while providing better borrowing power to qualified applicants. It ensures that borrowers will receive lower interest rates. The FHA also enables borrowers to see decreased lower closing costs. Closing costs include appraisal fees, title searches, surveys, taxes, and appraisal fees that occur when purchasing a home. The FHA also provides loan counseling and is able connect you to lenders and local agencies to assist you in finding a home loan.
Who Qualifies?
FHA-insured mortgages often help newly-married couples, graduates with little credit history, and borrowers who have dealt with bankruptcy or foreclosure in the past. They are designed to protect borrowers get on their feet without paying high interest rates.
Any borrower with a credit score over 500 qualifies for an FHA-approved loan. If your credit score is between 500 and 579, you will be required to pay at least a 10% down payment on the home. If your credit score is 580 or above, you will only have to pay a 3.5% down payment. Here are a few other requirements:
• You must have a steady employment history or have worked for the same employer for the last two years.
• You must have a valid social security number, legal residency, and be of legal age to sign a mortgage.
• The mortgage must be for your primary residence, meaning it cannot be used for a summer or vacation home.
• You must be at least two years out of bankruptcy and have reestablished your credit. An exception may be made if you are one year removed from a bankruptcy that was not your fault.
• You must be three years removed from foreclosure and have reestablished good credit. Exceptions may be made for extenuating circumstances.
• The home must meet minimum standards at appraisal. Appraisal of the home is required by the FHA.
Loan Limits
The FHA sets limits on the amount that may be borrowed. These limits vary state to state, but some counties will allow you to borrow an amount up to $729,750. These limits increased in 2017.
Mortgage Insurance Premiums (MIP)
Because of the protections afforded by the FHA, these loans require two types of premiums. One is paid in full up-front, while the other is paid monthly. The up-front payment may be financed into the mortgage.
The upfront mortgage insurance premium (UFMIP) is a one-time payment that may also be folded into the mortgage. Borrowers must pay a premium of 1.75% of the home loan. For example, a $400,000 loan would require a $7000 premium.
The annual mortgage insurance premium is actually a monthly charge, despite its name. It is based upon several factors such as the loan-to-value (LTV) ratio, loan size, and length of the loan. For example, a loan over 15 years for $625,000 or less and an LTV ratio of 95% or less would have a .80% annual MIP.
Interest Rates
The interest rates for FHA-approved loans will vary depending on credit score, employment, and other factors. FHA-insured mortgages keep that rate lower than home loans that are not insured. The average mortgage rate in mid-February of 2017 stood at 5.04% on a 30-year fixed rate loan.
Buying a home is a complicated process. The financial situations of many Americans have suffered as a result of recession and other factors over the last decade. The FHA can help by providing many people with lower credit scores the opportunity to find a mortgage at a lower rate than they would find otherwise. If you believe that you might qualify for an FHA-approved mortgage, follow the link below to get started.
https://portal.hud.gov/hudportal/HUD?src=/buying/loans
The FHA provides loan counselors to potential borrowers and the resources to contact FHA agencies in local areas. You may qualify through the FHA when other institutions turn you down. Do not let past financial difficulty get in the way of purchasing a home.