Finding Employment with Job Searches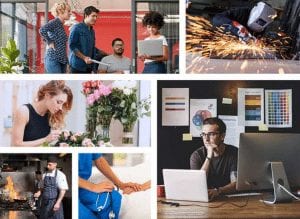 Sometimes, life hits Americans hard. With ups and downs in the economy, it may be difficult to maintain consistent employment over a long period of time. Fortunately, there are options to help find a new job or career. In the modern world, walking into a grocery store and picking up an application no longer lands a job. Almost all applications are filed electronically over the internet. Many larger companies have listings for openings and applications available on their corporate websites, and almost all employers place openings on job search websites. Here are a few sites that will make searching for employment a little easier.
New Job Listing Engine – New Flex Careers (office work, warehouse, truck driving, retail, and more)
LinkedIn
LinkedIn operates similarly to social media websites. A profile with a picture is developed. It allows users to post résumés, employment history, awards, and skills. Friends may endorse job skills. LinkedIn also allows users to post articles about job hunting and professional activities. These articles shed light on the standards used by employers and how to act in an interview.
In addition to giving job suggestions, LinkedIn provides employers the opportunity to look at profiles in order to request that individuals apply. Many employers also look at LinkedIn profiles during the application process to determine an applicant's professionalism. Even if LinkedIn does not become a primary search engine, many employers will not hire someone without a LinkedIn profile. The bigger the individual's LinkedIn network, the easier it is to get hired.
Indeed
Indeed.com is the most trafficked job search engine on the internet. Employers post thousands of job listings every day. Job seekers may create a profile and upload their résumés. The site will fill out much of the profile information based on the résumé. The search option enables job searchers to filter through options such as type of work and location. Indeed's mobile app enables alerts for specific jobs. Employers may also browse through profiles in order to find appropriate candidates. Indeed's simple design makes it easy to find employment.
Glassdoor
Glassdoor operates similar to Yelp, but for employees rather than consumers. The name derives from a desire for transparency in the employment process. If a job seeker finds a posting for a company and would like to see how others enjoy working there, they can look up what employees say on Glassdoor. The website is much more aesthetically pleasing than others, while permitting users to create a profile and upload a résumé similar to other sites. Glassdoor is an important asset in any job search.
https://www.glassdoor.com/index.htm
Monster
Monster.com once ruled as the king of job-hunting websites. Though it no longer generates the same number of postings as Indeed, it provides services that other sites do not. Monster will review résumés and give advice, as well provide sample interview questions and salary negotiation tips. Monster can help in any job search by giving advice on how to hunt for employment.
Looksharp
Looksharp prepares college students and those with thin employment histories by posting detailed job descriptions from various employers. The site also provides résumé and cover letter templates. For those interested in computer science, Looksharp acquired another search engine for that field in 2014. Looksharp is perfect for job seekers with little experience.
https://id.looksharp.com/users/sign_in
Craigslist
Though this may seem like an odd option, Craigslist's employment section offers a wide variety of local jobs specific to each area. These may range from short-term and seasonal jobs to companies desperate for employees. Craigslist may be able to provide employment for those who need a temporary job while they search for something better, provided they remember to be aware of scammers.
https://www.craigslist.org/about/sites
USAJobs
USAJobs serves as the US government's job search engine. Though it is poorly designed, it enables job seekers to look through various government jobs and see the eligibility and benefits attached to each. Due to its status as a government-run site, it often offers jobs that other sites miss. USAJobs may be an excellent resource for work with guaranteed benefits.
The search for employment has changed in many ways over the last few decades. Technology and the internet have made it easier to employers to look through a broader pool of applicant. By creating profiles on these sites and applying electronically, applicants demonstrate the ability to use technology in a modern world. Searching for a career is painstaking work in itself, but these sites make it much easier.