Finding Substance Abuse Centers
If you or a loved one suffer from substance abuse, it's time to act. It's easy to fall into the trap of waiting for "the right moment," but the right moment may never come. Substance abuse is not only devastating to the individuals immersed in it, it's also extremely damaging to their families and friends, and waiting for the perfect moment to intervene can mean waiting until it's too late. It is impossible to predict when a problem that seemed under control will boil over and destroy lives. Help is available, and seeking it out can save lives, not only that of the abuser but potentially those of others as well. If you have questions about a friend or an employee you may want to get a free background check to see if they have any drug related issues.
The consequences of substance abuse make the news with increasing regularity, and for a good reason.[1] Illicit drug use is rising, and alcohol, while legal, continues to ravage individuals and families.[2] Although marijuana remains a hot debate topic regarding its tenuous legal status and negative impact on users, the more dangerous illicit drugs continue to ravage many communities, particularly in rural regions, an area that a University of New Hampshire report indicates is a trouble spot for increasing amounts of methamphetamine and alcohol abuse.[3]
Annual deaths from drug overdoses are on the rise, with heroin in particular distinctly impacting men.[4] However, drug abuse and its consequences respect no gender, no racial background, no nationality and no income level. All parts of society are affected by addiction. Even if the substance changes across socioeconomic levels changes, the negative outcomes remain the same.
Thankfully, there is immediate help available for those suffering from these problems, including assistance for friends and family members looking for ways to intervene in the lives of their loved ones.
Looking for Treatment Programs?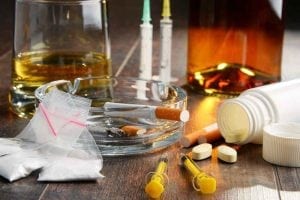 The vast majority of substance abuse treatment facilities are not government run or facilitated. A 2012 survey found that most are run by nonprofit organizations (51%) while about a third are private, for-profit organizations. Federal, state and local facilities only account for 11% of all facilities, serving only around 12% of all clients.[5] When searching for programs and facilities, first look for nonprofit facilities, which offer lower costs, and then private facilities, where the cost may be more, but where financial assistance may be available.
The American Addiction Centers is a national program that accepts medical insurance, including Medicare and Medicaid. The program also gains access to government grants that may help provide you with free care. Treatment centers are spread out across the country. If you are willing to travel or have a family member travel to get help, this may be a good option for you.
The American Addiction Centers also includes a section on their website where you can find state-funded rehab centers, an option for those who have low income, inadequate insurance or no insurance at all. You can find out more information from the American Addiction Centers website or use the Single State Agencies Directory (pdf). The SSA directory has at least one listing in every state.
The website addicted.org also has a list of drug rehab facilities and programs in every state. The site also includes helpful information for those looking to get help for others, as well as information hotlines for those who need to talk to a real person about getting connected to a facility. The website also includes an impressively detailed directory which breaks each state's treatment facilities down by counties, types of services, special services, types of payments, meetings and cities.
Available Treatment Programs
Not all treatment programs are alike. These programs can differ depending on the type of substance abused and the severity of it. It's important to understanding the differences in programs and which program is right for you or your loved one This information is summarized from the National Institutes on Drug Abuse, a branch of the National Institute of Health.
Long-Term Residential Treatment – These programs provide 24-hour care facilities, where clients live within a community built around holistic recovery. There are different types of Long-Term Residential facilities with different approaches, but all focus on helping individuals with particularly severe cases rebuild their lives and can include the development of work skills so that the person can re-enter normal life with a better chance at success. This option is often required for those whose problems have become a criminal issue.
Short-Term Residential Treatment – A shorter-term variant of the Long-Term Residential Treatment, this program often emphasizes various 12-step programs toward rehabilitation over the course of 3-6 intensive weeks. These programs typically end with an outpatient program that is necessary to success and at preventing the risk of a relapse.
Outpatient Programs – These short-term, temporary programs are typically a summative part of Long-Term and Short-Term Residential Treatment, but are also used on their own. The main features of Outpatient Programs include group counseling and drug education. In some cases, this may involve single-day intensive drug treatment. These programs are typically less expensive than longer term programs, although they are not properly suited for those heavily involved in substance abuse.
Individualized Drug Counseling – Individual programs exist to help heavily involved substance abusers recover from their addiction. These can be short or long term, depending on need, and focus heavily on treating the addiction and underlying behaviors associated with the addiction. Counselors in this type of program typically work one-on-one with clients, developing a special program to best suit that client's particular problem, and working as a liaison between the client and others, including family, employers and medical practitioners. Given the individualized nature, this is a relatively expensive option.
Group Counseling – Group counseling has been shown to be extremely effective when combined with other methods. Part of the emphasis in group counseling is to get individuals to recognize their addictive tendencies through the experiences of others who share those experiences.
Criminal Justice-Involved Substance Abusers – While not a specific program, research shows that those when criminal justice is involved in the problem, a decrease in the abuse tendencies are more likely. The imperative that occurs while incarcerated for drug-related crimes, as well as the regularity of services provided while in prison, has been shown to produce positive outcomes. That said, this is a scenario that is not preferable for families and those with substance abuse problems.
Substance Abuse Center Expenses
Drug abuse treatment can cost several thousand dollars a year, depending on the type of program. A year-long methadone program can cost nearly $5,000, for example. However, according to the NCDA, the cost benefit for treatment results in a return of $4-$7 for every dollar spent.[6] Drug habits can be extremely costly, for both your family or the person with the drug addiction problem. It is typically less costly to spend money to solve the problem than to avoid paying. Financial support can be obtained using any of the following methods:
☑️ Medicaid
☑️ Medicare
☑️ State-financed health insurance
☑️ Employer health insurance
☑️ Military insurance
☑️ Grants made available through different facilities
The annual cost of imprisonment for drug offenses can reach, or even exceed, $24,000 per person, even without considering the burden on the legal system and the material and human costs of the actions that led to the imprisonment. Governments and local police forces do not want to arrest people, try them, and put them in jail: they prefer to provide resources to those who cannot pay for these types of programs before it becomes a criminal issue, instead of having to incarcerate someone for criminal violations. Don't let financial problems deter you from seeking needed help for yourself or a loved one: If you need financial assistance, you can obtain it, regardless of your income level.
Notes
1. "Wasted: Horrifying photos of parents passed out by school bus after overdosing in their car" . DailyMail.co.uk
2. "DrugFacts – Nationwide Trends" . DrugAbuse.gov
3. "Substance Abuse in Rural and Small Town America" . Scholars.UNH.edu
4. "Overdose Death Rates" . DrugAbuse.gov
5. "Data on Substance Abuse Treatment Facilities" . SAMHSA.gov
6. "Is drug addiction treatment worth its cost?" . DrugAbuse.gov