If you live on a budget (and who doesn't?) obtaining useful things without spending a dime is invariably a good thing. It's also easier than you'd expect. Companies are always giving out freebies to get customers interested in their products. Some companies do market research by giving away items to consumers in their target markets and surveying their reactions to the products. Web sites work with businesses that offer giveaways or point site visitors in the direction of the best goodies. Let's look at the cream of the crop when it comes to websites for getting something for nothing.
First, Get A Free Beauty Box! Click Here!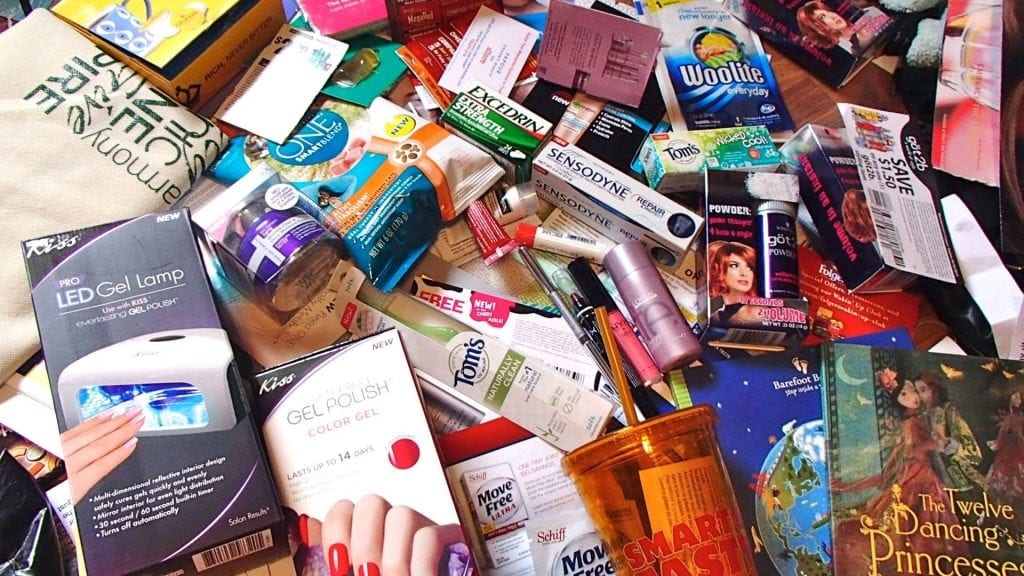 Let's Get Some Free Stuff
☑️ Ebates has emerged as the go-to spot for earning rewards. Earn money when you shop with up to 40% Cash Back! Discover coupons, promo codes, discounts & deals at your favorite stores. … Ebates is a fantastically easy way to earn cash-back discounts at hundreds of online stores that you're probably shopping at already.
☑️ BzzAgent is a word-of-mouth advertising agency that allows members to try new products and services at no cost – all they want is for you to share the product information through outlets such as Twitter and Facebook. Products range from food to beauty and health products to toys and books. With BzzAgent, the more you share, the more your reputation grows, and the more items you can try.
☑️ HouseParty is the site of choice for people who love to share new products with people in their circle or even in their whole block. HouseParty campaigns have covered everything from apparel to beer to vacuums. It's simple: you apply to host a party, answer a short survey to match your demographic to the needs of the company, and then wait for selection. Increase your odds of selection by joining the Chatterbox discussions on the site. If HouseParty selects you from the available host spots, they will ship you a party kit filled with merchandise to show off and even share with party guests.
☑️ PinchMe hasn't been around long but has quickly become a favorite among people seeking out freebies. PinchMe offers sample boxes a couple of times a month and even more regularly for members who review their items after receipt. These sample-size products range from shampoo and other health and beauty products and cosmetics to pet food, treats, cleaning supplies, over-the-counter medications and more. Sign up, fill out your profile, and stay tuned to social media to find out when they are distributing samples before logging in and claiming yours.
☑️ Free Makeup Samples lets you try the latest products from a top cosmetics, skincare, and haircare company before anyone else sees them on the shelves by joining the company's consumer panel. Create a profile, fill out a survey, and get free makeup samples. If you're selected, the company sends you full-size products to try. As a bonus, each time you participate in a test, you are awarded a Visa or other gift card for your participation; these cards range from $50 to $100, depending on the type of product and how extensive the survey or other requirements.
☑️ Extreme Rebate lets you test and keep products at savings of up to 100 percent. All of the products are from Amazon.com; you request a product via ExtremeRebate.com, wait for the seller of the product to respond, and then buy the product. After your product ships, the seller reimburses you for the purchase via Paypal. Reviewing the products you test is a good way to build up your reputation with the site and gives you an opportunity to examine more and more stuff. Products range from electronics to children's clothing, household goods, and more.
☑️ Freecycle is a good place to find used freebies. "Freecycling" is another word for giving away things you don't want, and what's junk to one person can easily be precious to another. You can score everything from used furniture and video games to appliances, clothing, and baby items by signing up and browsing your local group. Members give things away to keep them out of the landfill, and the quality of items ranges from fair to excellent. Membership costs nothing, and you never know what you'll find.
☑️ FreebieShark.com is a top pick to help you find everything the web is currently giving away, all under one cyber roof. Hit up FreebieShark.com. Freebieshark scours the web continually (who knows when these guys sleep) to post every possible freebie that's available.
☑️ Craigslist is a top stop if you're looking for free stuff. The "Free" section of this site allows users to post items they no longer want, and it is sometimes surprising what other people pitch to the curb. There is usually a hodgepodge of items available, all of them locally.
If you have a baby or are expecting, there are tons of freebies out there to grab. Take advantage of free formula and coupons for savings on formula from Enfamil's Strong Beginnings program or Similac's Strong Moms program. Join Pampers Rewards or Huggies Rewards to get savings and exclusive offers on diapers, wipes, and diaper care items. Register for Target's baby registry to get more savings on the baby purchases you make there along with exclusive coupons, samples, and more. Nearly all stores have baby registries and offer perks for signing up, including Babies R Us, Walmart, and Kohls. Amazon offers a deluxe gift box with the completion of a baby registry survey and the purchase of $10 from your registry list.
You won't find everything you want for free, but if you know where to look, you can usually find something that you want or need that is available without payment. Even if the items involved are everyday purchases that may not leave you panting with excitement, stop and think about what you can do with the money you didn't spend on those common items. A penny saved is a penny earned, and nothing saves money like getting something for nothing.