Positive Thinking Can Change Your Life
Enthusiasm Is Positive Energy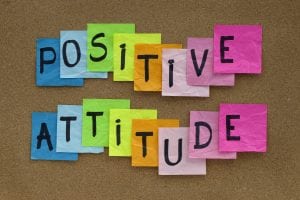 "No pessimist ever discovered the secret of the stars, or sailed to an uncharted land, or opened a new doorway for the human spirit."
– Helen Keller
Enthusiasm is the sunshine of your mind's garden. Possessing enthusiasm for all that you do is essential to the process of positive thinking. Just as plants require sunlight to develop and grow, utilizing the power of positive thinking requires enthusiasm to energize your potential and ensure an endless supply of fuel.
You will discover that the more enthusiasm you generate, the more energy you'll have to put in. There are some things it will be easy to generate enthusiasm over, and others where you'll have to stretch yourself to find what will spark your enjoyment. For example, no one has trouble generating enthusiasm for spending an unexpected bonus from work or taking a night out.
You may find it hard to get excited about washing dishes or filling out your income tax forms. But part of the magic of positive thinking is developing the ability to find the good things in any situation and use them to get through the difficult parts.
Like developing a positive mindset, enthusiasm must be cultivated and sheltered from potentially damaging emotional storms. There are several methods you can use to put a dose of passion into everything you do, whether it's finally taking that dream vacation or scrubbing out the basement. You can choose the method that best fits whatever situation you're facing and ensure yourself the energy to tackle anything life happens to throw at you.
Finding Enthusiasm
One of the most elemental solutions for finding enthusiasm is to focus on the benefit you will derive from completing a particular task. In some situations it's easy to discover the benefit. For instance, you may hate wrapping presents, but you know the person you're giving the present to will be overjoyed when presented with this lovely paper-wrapped gift, and so you derive happiness from envisioning the recipient opening the present. This is an especially useful tactic when you're still up at 2 a.m. on Christmas morning trying to figure out how to wrap the bicycle you've just spent three hours putting together.
Other circumstances will not have such obvious benefits. If you were to find yourself trying to change a flat tire on the side of the road in the middle of a snowstorm (or a rainstorm, if you are fortunate enough to live in a snow-free climate) it would undoubtedly be difficult to find your silver lining. Under stressful circumstances, give yourself permission to think of the wildest benefit you can come up with. Perhaps you were on your way to a party you would rather not have gone to. In that case, your flat tire would give you the perfect excuse to turn around and go back home.
There is some good in every situation, whether it's in the form of a benefit or a lesson to be learned (Lesson One: Never drive with questionable tires through a snowstorm to a party you didn't want to attend in the first place). You can harness the power of positive thinking by finding that good and exploiting it, no matter how small or insignificant it may seem.
If you're having trouble summoning enthusiasm for a particular task, try to seek out someone who enjoys doing that sort of thing and ask them to partner up with you. Like smiling, enthusiasm is contagious. If you spend some time observing another person's enthusiasm, some of it is bound to rub off on you.
If you don't know anyone who might be enthusiastic about what you're trying to accomplish, try going online to look up articles or blogs (web logs, which are usually personal, regularly updated online journals) pertaining to the subject. Sometimes merely reading about someone else's enthusiasm can help you find some aspect of the task to enjoy, and get you through it with a minimal amount of stress, anxiety and dread. (Be warned: it may be difficult to discover anyone who enjoys scrubbing toilets or emptying cat litter boxes. In these cases, you might be on your own!)