Is Public Housing An Option for You?
The US Department of Housing and Urban Development (HUD) utilizes several programs to ensure housing for lower-income families. One of these programs is Public Housing. This program was designed to provide decent and safe rental homes for lower-income families, the elderly, and disabled persons. Find out below if you might qualify.
Are you interested in renting to own? New options are now available!
What is Public Housing?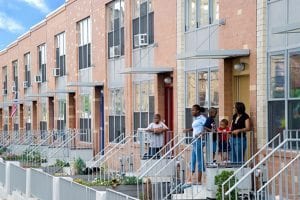 Public Housing are housing units that range from single family homes to high-rise apartments for elderly families. 1.2 million families live in these dwellings, which are managed by Housing Authorities (HA). HUD provides Federal funding to these HAs, who then determine eligibility for families and develop and maintain these housing units.  Public Housing differs from Section 8 by offering existing housing. Section 8 provides qualified families with rental vouchers to locate safe and sanitary housing on their own, as long as that housing meets the requirements of the program. For more information on Section 8 follow the link below.
https://familyreliefservices.org/housing-resources/
For New Low Income Rent to Own Options Click Here!
What Types of Public Housing Are Available?
The type of housing depends on the local HA. Many HAs provide one to four bedroom homes. These homes may be scattered down a street or connected in the form of townhouses. Many units take the form of apartment complexes. Elderly housing and housing for disabled persons will accommodate any physical difficulties. Who is Eligible? Local HAs determine eligibility based on income. The three primary factors in determining eligibility are:
1) Annual Gross Income – Lower income means that your family's income is at 80% of the median income for an area. Very low income is at 50% of the median income. The income limits vary from HA to HA, so some families may be eligible in one area but not in another.
2) Qualification as elderly, disabled, or as a family. You must meet one of these three categories in order to apply. Retirement benefits, property assets, IRAs and other assets are taken into consideration to determine eligibility.
3) US Citizen or immigration status. You must be a US citizen, legal resident, or legal immigrant to apply for Public Housing.
What is Needed for the Public Housing Application Process?
You must file a written application through your local HA. They will collect the following information to determine eligibility:
1) Names, dates of birth, sex, and relationship to the head of household of all individuals who will be living in the housing unit.
2) Current address and telephone number
3) Family characteristics or circumstances that might help you qualify for tenant preferences. For example, living in substandard housing or veteran status may help in qualifying.
4) Names of your current and previous landlords
5) Estimate of your family's income over the next twelve months
6) Names and addresses of employers, banks, and any other information that the HA might need to determine income
7) Prepare for the HA to potentially visit your current residence to judge the upkeep of your current home.
Is There A Lease for Public Housing?
If you are approved for housing, you will be required to sign a lease. You may also be required to submit a security deposit. This usually runs around $25. Once you are approved and sign a lease, you will be eligible for housing as long as you need it. The local HA will reassess your income status regularly.
How Much is Public Housing Rent?
Rent is determined using the highest of the following:
1) 30% of monthly adjusted income (based on annual income with certain deductions accounted for
2) 10% of monthly income
3) Welfare rent, if applicable
4) $25 minimum rent set up by HA, potentially up to $50 Public Housing may be a viable option for many lower income families to find housing.
Have You Tried Renting To Own? New Options Now Available!
There is often a waiting list, but if your opportunities for financial improvement are limited, the waiting list may be worth it in the long run.
For more information, visit https://portal.hud.gov/hudportal/HUD?src=/topics/rental_assistance/phprog. If you need assistance with housing, this may provide you with an opportunity that will benefit you and your family.