Saving Money on Car Insurance
 

Car Insurance Isn't Cheap!
Years ago, car insurance wasn't required by law. Accident victims would get no form of compensation after an accident. At times, when a victim sued a driver who was faulted in an accident, the driver faced crippling financial losses. Now, insurance is mandated in all 50 states, however, finding affordable car insurance isn't easy. Consumers are faced with dozens of options and often times don't understand what their policy actually covers, or how to find the best rates. Our goal is to explain the basics to help you save money on car insurance!
Car insurance was created to protect consumers against financial loss if they have an accident and is a contract between the consumer and the insurance company. The consumer agrees to pay the premium and the insurance company agrees to pay losses as defined in the auto policy. Car insurance can provide property, liability and medical coverage.
The car insurance requirement helps states protect drivers from the costs that are often associated with an accident. It ensures that the "at fault driver" can cover the costs of all injuries and damages that resulted from an accident. It also ensures that the victims can seek the necessary medical care and other expenses they may face as a result of the accident.
Ready to Find the Best Rates for Car Insurance? Click Here!
What Affects Your Car Insurance Premium?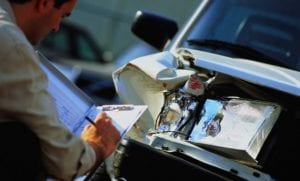 We all know now that insurance is mandated and is very important. However, we still want to save money, right? Here are a few things that can affect your car insurance premium and how you can offset them and hopefully save money!
Teen Drivers – Teen and young adult drivers will raise your premium around 20-50%. The reason is because the majority of car crashes resulting in death are by teen drivers. However, you can offset some of this cost if you have children with good grades. Teens that have good grades tend to be more focused, vigilant and responsible. This results in car insurance discounts ranging from 6-20%.
Safety Features – Does your car have safety features like anti-lock brakes, running daytime lights, anti theft and passive restraint features? These safety features can lower your premiums from most car insurance companies.
Age of Your Car – If you drive a newer car (3 years old or newer) your rates may be lower. This is because companies believe that you are a more conscientious driver if your vehicle is ding free. Newer cars also tend to have more safety features which lower car insurance premiums.
The Amount of Policies You Have – If you own your home, having both policies through the same company can lower your car insurance premium. Some insurers offer things like multi car discounts as well.
Credit History – A customer's credit history can affect premium costs. The better credit history the lower your costs may be. Research has found that those who manage their credit and pay their bills on time have fewer insurance claims.
To achieve a better credit history and lower your premiums check your credit regularly and keep your credit balances as low as possible. Also, don't obtain more credit than you need.
Click Here to Check Your Credit Score Now!
How Much You Drive – The less you drive, the chances are the better rates you will get. Discounts for low mileage may also apply to drivers who car pool to work.
Marital Status – Married people tend to have fewer accidents than single people. Once you are married you may see a significant drop in your insurance rate.
Ready to View Cost Saving Car Insurance Providers? Click Here!
Shop Around For Car Insurance Premiums
When trying to lower your premium costs, consider shopping around for lower insurance premiums. We recommend getting quotes from at least three different companies. You can call companies directly or access a price estimate online. Prices vary from company to company, so it pays to shop around.
The point of buying insurance is to protect you financially and provide peace of mind. Because of this it is important to check and make sure the insurance company is financially stable. Also, check reviews and ask friends and relatives for their recommendation. You want to choose an agency that will take the time to talk to you and answer your questions. Don't purchase insurance based on price alone, even if you want to save money!
View Car Insurance Providers Now! Click Here!
Consider Higher Deductibles
Deductibles are what you pay before your insurance kicks in. Higher deductibles can lower your policy premiums substantially. Increasing your deductible from $200 to $500 may reduce premium by 15-30% switching to a $1000 deductible may reduce premium by 40% or more. Before changing your deductible be sure you have the money available to pay if you have a claim.
Change How You Pay
Many insurance companies offer a discount if you pay your premium in full or if you use the automatic payment option.
Reduce Coverage on Older Cars
If you have an older car, consider dropping collision and comprehensive coverage. Keeping full coverage on an older car may not be worth your premium.
Having car insurance can give you the peace of mind knowing that you'll be financially covered after an accident. It is mandated by state, and is there to protect consumers. We all want to save money, and saving money on car insurance is possible. Consider factors that affect your premium, see what discounts are available and shop around for a reputable company with great rates.