Searching for Online & Freelance Employment
Many career fields and skills do not fall under traditional frameworks for employment. Writers, photographers, marketers, teachers and artists may be able to find work as online freelancers to continue improving their skillsets. Some of the jobs last for one assignment or translate into longer-term employment relationships with the companies who seek their talents. Many sites on the internet offer connections to available freelance work. Here are some places to find freelance work.
Upwork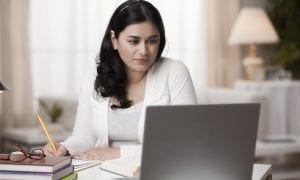 Upwork offers freelance work in a variety of categories. Freelance jobs for web design, marketing, writing, developing web content, translation, data entry, photography and other online categories can be found by searching through the site. Many jobs are paid hourly with a timer monitoring your work, while others are paid by project. After finding potential work, the freelancer places a proposal so that the potential client may choose between competing bids.
Upwork is free, but a $10 a month upgrade gives freelancers more options to see competitors and client information. Upwork does require a service fee for connecting freelancers to clients. For the first $500 charge a client, the fee will be 20%. It drops to 10% for contracts between $500.01 and $10,000, then to 5% contracts above $10,000. The more work performed, the easier it is to receive contracts. Upwork helps freelancers find work easily.
Freelancer
Freelancer provides an avenue for established freelancers to find work. Similar to Upwork, users may create a profile and find marketing, writing, photography, and other types of work. Because Freelancer is for experienced professionals, the basic membership costs $24.95 a month. Many big-name employers find contractors on Freelancer, including JPMorgan, Forbes, and The Wall Street Journal. Freelancer works best for users with a broad portfolio and ample experience.
Freelance Writing Gigs
Freelance Writing Gigs operates similar to a traditional job search engine. The site posts work that can be done in person, as well as telecommuting jobs. The site also offers tips and articles on how to find work as a freelance writer. An entire section of their site is dedicated resources to help writers find work. For writers interested in learning how to freelance, this site teaches how and where to find work.
http://www.freelancewritinggigs.com/
Journalism Jobs
Journalism Jobs helps writers and photographers find freelance work in the field of journalism. Similar to other job search engines, a job seeker may build a profile and add a résumé in order find work. The database includes work for digital media, newspapers, radio, television, and even diversity hires. Journalism Jobs is perfect for freelancers in that field.
http://www.journalismjobs.com/index.php
TeachAway
TeachAway gives teachers an opportunity to work in an online setting. The site even offers a link to become TEFL certified. Teaching options include the US and countries abroad like Abu Dhabi and Malaysia. Jobs include online tutoring or teaching in online classrooms for grade schools or universities. The site also gives work to course developers and subject matter experts. For educators who would feel more comfortable teaching online, TeachAway finds employment all across the world.
https://www.teachaway.com/online-teaching-jobs
ConceptArt
ConceptArt hosts the largest jobs board for freelance artists. The site is free and hosts over 500,000 artists and 8,000 companies. Similar to other job search engines, ConceptArt allows users to create a profile and search for work. Most of the work may be created remotely, but a few are dependent on location. ConceptArt provides freelance artists with a method for finding work.
http://www.conceptart.org/go/artjobs/
Freelance and online work may be difficult to get started in, but once someone becomes established, they enjoy the freedom that comes with setting their own schedule and working from home. Sometimes, freelance work can be a simple way to supplement income, especially for students and stay-at-home parents. Online work can be rewarding and afford individuals the opportunity to work on their craft.