Social Security Disability Benefits
Sometimes in life, events occur that prevent people from working in order to make a living. Accidents occur and illness strikes at the most inopportune moments. The Social Security Administration may be able to help. They provide
disability benefits
to Americans who suffer from injury or illness that lasts longer than a year or will end in death. Find out below if you may qualify.
Need free personal help with your disibility application? Click here!
Who qualifies for disability benefits?
Federal law dictates that individuals with a medical condition that is expected to last at least one year or result in death be considered disabled. While some programs provide money to those who are partially or short term disabled, Social Security only covers those under the Federal definition.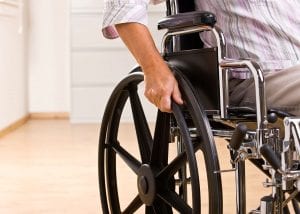 If an individual becomes disabled in or before the quarter they turn 24 years old, then they must have worked at least 1.5 years of the prior three years in a program that collected Social Security. If the individual is between the ages of 24 and 31, then they must have worked at least half of their eligible time in such programs. If the disabled person is over 31, then they must have worked at least five years out of the previous ten in qualified programs.
How is eligibility determined?
The Disability Determination Office (DDO) in each state determines individual eligibility. Doctors and specialists in the state office will speak to the applicant's doctors about the applicant's condition and ability to walk and perform work tasks.
The DDO utilizes a five-step process to determine eligibility:
Is the individual working? If the applicant is working and able to make a certain amount in terms of monthly income that is determined each year, then they will not be considered disabled.
Is the medical condition severe? The condition must last at least twelve months and prevent the applicant from performing work tasks.
Does the impairment meet or medically equate a listing? The condition must be one of many included on a list determined by the DDO. If it does not, it must be as severe as a condition on the list.
Can the applicant continue to perform the same work as before the condition began?
Can the applicant do any other form of work?
If an applicant makes it through all five steps in the process, they will be considered disabled and qualify for disability benefits. There are special rules for the blind.
How to apply for Disability Benefits
As soon as an individual becomes disabled, they should apply for disability benefits. The online application can be found at https://secure.ssa.gov/iClaim/dib. Before beginning the application, the information is needed:
Social Security Number
Birth or Baptismal Certificate
Names, addresses, and phone numbers of all doctors, caseworkers, hospitals, therapists, and clinics who may have been involved in the process
Names and dosage of all medications
Medical records
Laboratory and test results
Summary of work history and kind of work performed
Copy of most recent W-2
After completing the process and submitting all documentation, the DDO will perform its process and mail a decision. The decision may also be appealed if the applicant feels it is necessary.
When will benefits begin?
If the application is approved, then disability benefits will be paid in the sixth month after the disability was determined to begin. If the DDO determines that the disability began on January 15th, then the first payment will arrive in July. Payments occur in the month following the month for which they are due. For example, a July payment will be paid in August.
Do family members qualify for benefits?
The following family members of an individual who has paid into Social Security may also qualify for disability benefits:
A spouse who is 62 years or older
A spouse caring for a child younger than sixteen of someone who has paid into the system
An unmarried child under eighteen
An unmarried child over eighteen whose disability began before age 22.
Are there any disqualifying factors?
An individual will not be paid disability benefits for any moths in which they have an outstanding warrant for the felony offenses of:
Flight to avoid prosecution or confinement
Escape from custody
Flight Escape
Monthly disability benefits will also not be paid to anyone in confinement for a crime. This includes any confinement for criminal insanity or anyone incompetent to stand trial. Monthly disability benefits will also not be paid for any month that an individual is in violation of probation or parole.
If you feel that you are eligible for disability benefits from Social Security, apply immediately. More information and the application to apply can be found at https://www.ssa.gov/disabilityssi/. The process is long and stressful, so take advantage as soon as possible.
Get 100% Free Help with Your Disability Benefits Approval. Click Here Now!
Need more info? Visit our detailed article on SSA Disability Assistance.