Keep Your Information Safe!
Makes A Great Christmas Present!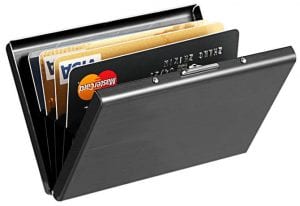 Credit card numbers are sacred these days. We'd never give them out to a stranger because credit card fraud and stolen identities are never more than one mistake away. But what if I told you that somebody could steal your credit card information simply by standing next to you?
Sounds farfetched, I know, but it's certainly possible if you carry around credit cards with RFID chips embedded within them. RFID credit cards let you make payments just by touching the card to a scanner rather than swiping across or inserting into a terminal. As with most kinds of contactless payment methods, they're designed for convenience. Wallet choices used to be simple. You could get a bifold, a trifold, or a clutch. More pockets, fewer pockets; leather or synthetic. Flip through Sky Mall on your next flight, though, and you'll find a new and potentially confusing option: RFID blocking. RFID-blocking wallets and sleeves, like this one from Swiss Alpine and this one from Buxton, claim to do something more than just keep your cards and money organized. They claim to keep your personal information safe from high-tech thieves. Do they really work, and are they necessary?
How Do RFID-Blocking Wallets Work?
People have been concerned about RFID chips for many years now, and not just in the context of credit cards. All U.S. passports issued starting in 2006 have these chips that track your photo and information. Metro cards have RFID chips for quick swiping and dogs are implanted with RFID chips for safety tracking. They're everywhere.
RFID chips work by using radio waves to communicate. The object, such as a credit card, contains an RFID tag with information, and an RFID reader uses radio waves to read the information from a tag. The key is that RFID chips have tiny electromagnetic fields, which is what makes them possible to read without having to "initiate" communications. All you need is proximity.
That's why, in theory, somebody could scan you through your pocket. And yes, people in the real world have been scanned like this. Check out this anecdote on Reddit to see what kind of headache can result from RFID hackers.
What Are RFID-Blocking Wallets & Which Should You Buy?
Fortunately, radio waves are relatively easy to interrupt and block, and that's how an RFID-blocking wallet works: they encase your credit cards in a material that interferes with radio waves. If the wallet is properly constructed to be a Faraday cage, it will block all electromagnetic fields and prevent communication between your cards and RFID scanners.
But do you actually need an RFID-blocking wallet? Maybe, maybe not. If your credit cards don't have RFID chips, then obviously you don't need one. And even if you do have RFID-chipped cards, the chance of being maliciously scanned is exceedingly low — less than 1 percent according to some. On the other hand, the possibility is there and the chance is non-zero.
The Sharkk Rugged Wallet is designed to be compact, but it's not as slim or light — yet what it loses in compactness, it gains in ruggedness. This wallet is a card case with a complete enclosement, providing maximum protection against scanners and physical damage.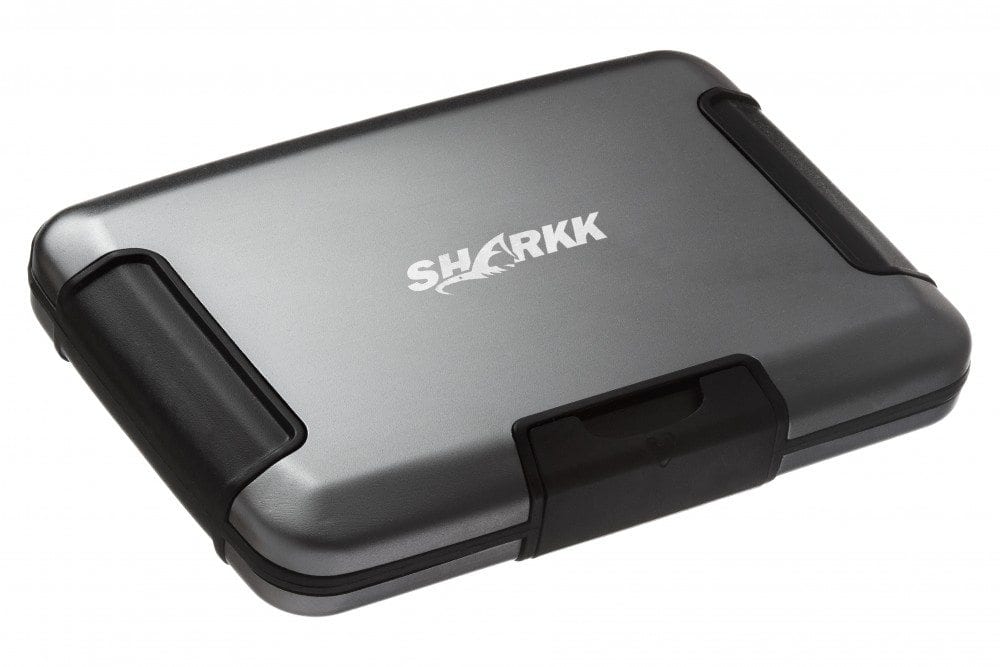 The card case design means that the Sharkk is high-grade waterproof. Just be careful when carrying cash because the cash band is on the exterior of the case! The case has enough interior space to carry up to seven cards, which should be more than enough for most folks.